October 2018
October 1, 2018
The Gazette – Community Newsletter
Welcome to the new online Gazette! Please check back to our website often for new newsletters and information.
---
Download the printable version of the October Gazette with Crossword Puzzle!
---
Important Notices
We will be sending out the rent increase letters on Friday 9/28/16. The new rent will be $485.00. starting on January 1, 2019.
It has come to my attention we have residents in the community that are feeding birds, rabbits and other cute little creatures. This is bringing in other, undesirable critters and creating problems. It is the responsibility of each home owner and RV owner to prevent any such problem from happening. Per the Florida Statutes on the matter:
64E-12.006 Insect and Rodent Control.
Effective measures shall be utilized to minimize the presence of rodents, flies, cockroaches and other insects on the premises. The creation, maintenance or causing of any condition capable of propagating insects or rodents will not be permitted. All outside openings shall be effectively sealed or screened with 16 mesh screening or equivalent to prevent entry of insects or rodents.

Please do not put food outside the home that will draw animals or insects onto the property. We have Bobcats, racoons, snakes, many varities of birds, and of course rabbits and squirrels. I realize it is an enjoyment, but it is a concern. Check your dryer vents, openings in the floor under the sinks (steel wool works to seal), spray around your homes and pellets or moth balls under the home to discourage rodents from living under the home.
We will only be getting 1 new home in this year and our front sign has been delayed to allow for more bids from contractors. We continue to repair sewer lines to correct infiltration problems that come with an older park.
Golfers: Big Shots 2-story driving range and entertainment center is now open in Vero Beach on US1.
Thank you for your cooperation!
– Management Team of Whispering Palms
---
The Fun Stuff!
Pumpkin Bars Recipe
1 2/3 CUP WHITE SUGAR
1 CUP VEGETABLE OIL
1 (15OZ) CAN PUMPKIN PUREE
2 CUPS ALL PURPOSE FLOUR
2 TSP BAKING POWDER
1 TSP BAKING SODA
2 TSP GROUND CINNAMON
1 TSP SALT
In a medium bowl, mix the eggs, sugar, oil and pumpkin with an electric mixer until light and fluffy. Sift together the flour, baking powder, baking soda, cinnamon and slat. Stir into the pumpkin mixture until thoroughly combined.
Spread the batter evenly into an un-greased 10×15 inch jellyroll pan.
Bake for 25-30 minutes. Cool before frosting.

Frosting:
1—3OZ PACKAGE CREAM CHEESE, SOFTENED
1/2 CUP BUTTER, SOFTENED
1 TSP. VANILLA
2 CUPS CONFECTIONERS' SUGAR
Blend cream cheese and butter, add vanilla and mix in sugar a little at a time, beating until mixture is smooth.
OR…. Try this on top!
1-1/4 CUP HEAVY WHIPPING CREAM
1/4 CUP MAPLE SYRUP
1/2 TSP CINNAMON & A PINCH OF SEA SALT
Put all in a bowl and whip with an electric mixer until peaks form.
Household Tips and Tricks
Need More Storage?
Replace the chairs at your dining table with storage benches. These can be purchased on line or in some furniture stores. They provide a comfortable sitting space and the added storage needed for those miscellaneous items that accumulate inside.
Another storage trick is to add a storage ottoman, as seen in the pictures here. These were purchased on Amazon and the writer said they are good quality faux leather and well constructed.
Benches: Simpli Home Furnishings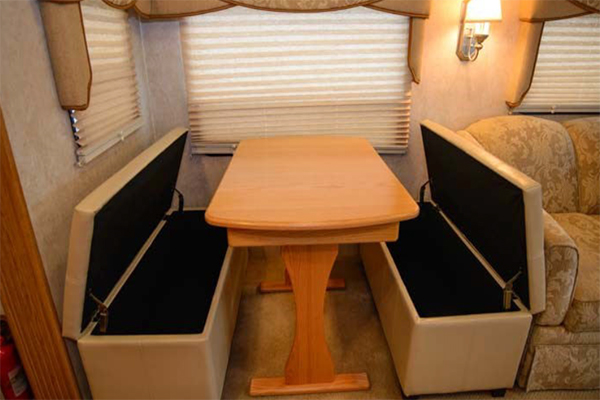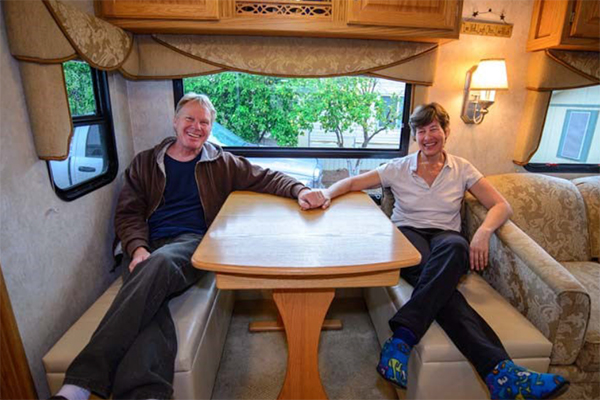 Painting Tips
When attempting to paint vinyl-covered drywall, you may be faced with other challenges. Many times, even after sanding and priming, the pattern will still show through the new paint. Look for stain blocking primers or consider using a faux painting technique and creating your own subtle pattern to camouflage the existing one. Some people suggest textured treatments to hide the existing print completely.
Repairing water stains in mobile home ceilings can be a chore. Ceiling tiles can be incredibly difficult to replace. Camouflaging the stain is often easier, and there are products available to help you make a quick job of it. Stain blocking primer is available in aerosol cans that come complete with vertical tips to make overhead spraying simpler. Look for quick drying formulas and choose one that is a muted white instead of a stark white since ceilings discolor with age and you don't want the primed area to stand out after you paint the ceiling. When the stain sealer is dry, if the color is distinctly different, you should consider priming the entire ceiling before painting.
Welcome to Our Community!
178 Richard St.
Kitiredge to Richard & Catherine Townsley
Welcome home Richard and Catherine!
116 Richard St.
Rita Cameron to Washburn
Rita lived in Whispering Palms for over 20 years and has gone to Texas to live with her daughter. Welcome the Washburns Whispering Palms!
---
Don't Forget about the latest Social Club Dances and Other Events!
Social Dance ticket sales will begin in Dec. and season tickets are available until Dec. 21st and can be purchased at 162 Richard St., Contact Viola. Purchase your tickets early to get the seats of your choice. The dances are well attended and the music is nice to dance or just listen to.
---